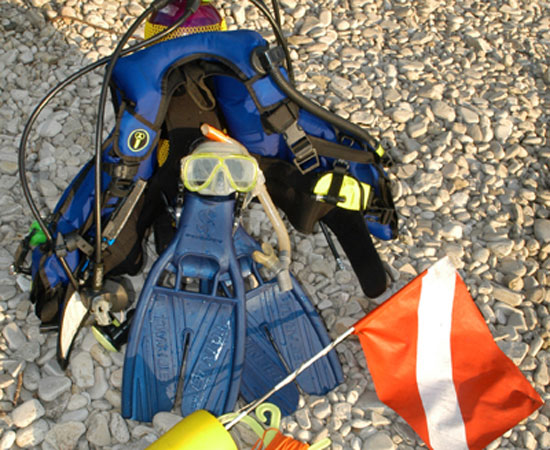 Rental Equipment & Air Fills
Air fills, Nitrox & Trimix
Air Fill to 4500 PSI
10 ¢/cubic ft.
Nitrox ≈ Up to 40%
15 ¢/cubic ft.
Trimix
Oxygen & Helium sold by cubic ft. at (fluctuating) market price. Call to get a current estimate.
Argon (for drysuits)
$1/cubic ft.
Full price for first day & half price for each additional day.
Tank Rental
Aluminum 63-cf, Steel 80-cf or 100-cf
$11.3732% Nitrox, aluminum 80-cf
$14.22
RegulatorScubapro MK17/S360/S360 Oct with Tec3H air-integrated dive computer and compass
$23.70
Buoyancy Compensator (BCD)
Scubapro with power inflator & weight-integration
$15.64
Wetsuit-7mm Full Suit
$14.22
Wetsuit Hood
$5.69
Wetsuit Gloves
$5.69
Wetsuit Boots
$5.69
Dive Flag, Float & Line
$9.48
Dive Flag, Float Tube & Line
$14.22
Please rinse off all equipment. All wetsuits and accessories returned soiled will be assessed a mandatory cleaning fee of $10 per item.
A Diver Certification Card is required to rent any scuba diving equipment (Regulator or BCD). Divers cannot rent scuba diving equipment for a dive buddy unless we have your buddy's certification information.
It's best to reserve your rental equipment in advance to assure it's availability.
Call (920) 468-8080 to reserve.